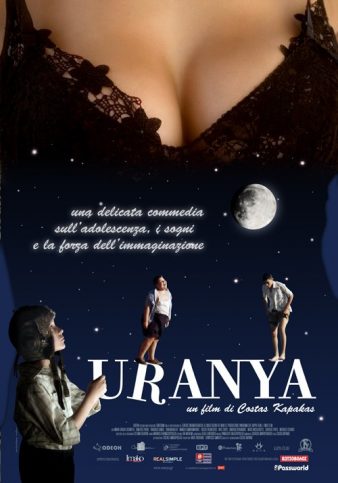 I have wanted to see Uranya ever since a friend told me how good it was after seeing it at a movie festival. He called it a pleasant surprise and highly recommended it. I wanted him to review its for my blog since the film was coming of age flick – he never got to it. So instead – you are going to get yet another review from me – yeaaay ! ( :
Uranya is a comedy from Greece. I say comedy because the film has a lot of humor and comics scenes in it – but in general is rather hard to determine. The film has few elements of political satire, drama, and surrealism – but of course, what I loved it for is its coming-of-age value. Those of you who hear of it for the first time may think it looks like a Greek version of Malena. But in reality, is a whole lot different.
Achilles (Aris Tsapis) and his four friends live in a small village by the sea. As most boys, they are interested in girls , women …and being a teenagers with raging hormones they are looking for a way to release the tension crated by their new-found sexuality. Besides doing the things boys do as teens – they made a pact and start saving money to spent on a local prostitute . Achilles , dreams of becoming a pilot or an astronaut and after finding out of the Apollo landing on the moon and tries to convince his friends to use their savings to buy a TV so they can watch it. As he states " The whole world is going to see it life , only we won`t because there is not a single TV set in our village "
Uranya is a very well directed movie. I was genuinely impressed in the way by which the characters were introduced – as slight hints showed their uniqueness throughout the movie. For example they all rode bikes ( similar to the one I had at 12 ) – which had accessories reflecting their influences and interests. In another scene – surreal and animated – the boys are seen like a small lilliputs exploring a women`s body .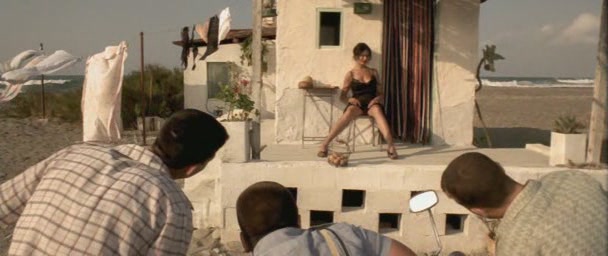 The entire cast performed exceptionally well. An interesting thing I noticed was that the boys in the film were cast so that their group could resemble the boys from the well-known coming of age flick  Stand By Me – of course, this made the Uranya even more appealing film to watch.
The camerawork and the overall cinematography in Uranya are pretty innovative. I loved the soundtrack – catchy Greek music that gets into your bones, and you feel ready for a Sirtaki dance. The overall atmosphere in the film is a bit nostalgic – or it was for me as I was able to remember a lot of my childhood experiences while watching the adventures of Achilles and his friends.
If you are up to seeing an engaging, funny, well-made film – Uranya will make your screen time worthy.