Boy Scout movies are rare compared to several other teeny-bopper themes that mark the blockbuster charts these days. But there are several flicks with a Boy Scout theme that are worth mentioning.

Scout Camp
Why not start with something light, like a recent film called Scout Camp back in 2009? This movie gives the viewer a great feel for Scout's life is like in camp. The aspect that attracts viewers of all ages is that it is taken lightly with a touch of comedy. This should attract the attention of kids and others who want to relive their experiences in the camp.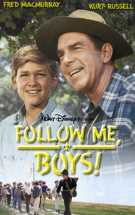 Follow Me Boys
Follow Me Boys is another movie with a Scout theme released back in 1966. It starred Fred Macmurray and a young Kurt Russell. This is the last Disney production released before the death of Walt Disney. The movie's theme song was so good that the Boy Scouts of America tried to use it as their anthem.

Boy Scouts in Harlem
One movie documentary that can catch anyone's attention is Boy Scouts in Harlem. This focuses on a different look at the Scouts. First, the setting itself is a hook that can really reel you in. It tells the story of a boy's journey to manhood while participating in an inner-city Scout program. You would have to see it to find how it works on so many levels.

Scouts to the Rescue
An old movie they many enjoy is the Scouts to the Rescue. This movie was shot way back in 1939. It tells the story of a troop on an expedition. The scoutmaster had to leave for an emergency, and one Eagle Scout lead the expedition that took the troop on several adventures.
If you are looking into something light that has Boy Scouts' theme, you can go for Scouts Honor (Badge to the Bone). From the title, you'll probably guess that it's a comedy. The story is about the fight of two brothers for a badge to inherit the camp from their father.
There are lots more Boy Scout movies out there. Almost all promote the discipline and determination these kids have to follow the Scout oath they have taken.  If you still do not know what it's like to be a Boy Scout, then try watching any of these flicks and see for yourself.  They are also great for showing to youth groups.
If you know other titles – don't hesitate to share them with the readers of this website and us.