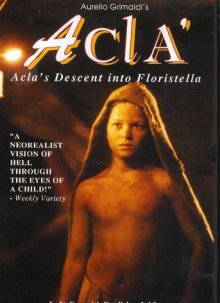 I have heard a lot about this movie – some people said that is was too harsh, others said it was controversial and then there were even some people who said that because of the descriptions available online they wonder if the movie is worth watching at all. Having seen it now – I can say that I found the movie was fine – but not that well acted or controversial as I through it would be.
Acla is coming of age movie about a boy who is sold as a mine worker by his parents. At the tender age of twelve his place is not there – but I know – and so do you that during the industrial revolution children from all over the world were forced to work in unbearable conditions. Acla`s decent into floristella is inspired by true events as the movie succeeds in the attempt to portrait the social climate of south Italy in 1930. In a small Italian village men have no choice – but to spent 5 days a week away from home working and living in the mines to make a living. Acla is to be treated as a man and part of the family only is he obeys the will of his father and work in the mines like him and his older brother.
I was disgust by the way the family of Acla treated their own son. Even his mother mentioned that it would be a disgrace if Acla do not accept the harsh life of a mine worker. After all the family received some money for sending their son to what pretty mush resembled slavery. There are several scenes that allow the viewer to observe the way of thinking of Acla`s mother and relatives – illiterate and poor , not watching to change or may be they just did not have a chance to do that.
The scenes from the Floristella`s mines reveal the horror in which young Acla is forced to live. Constant beatings and harassment's are part of the daily life in the brutal working environment of the sulfur mines. The live in isolation forced some of the man who work in the mine to " commit a sin" engaging in sexual activities with each other and even the young boys are not safe there. There are no sexual scenes but many sexual references and prepositions which makes the movie unsuitable for all ages.
This film is a stark, brooding film that uses components of naturalistic and realistic cinematic styles.
"A NEOREALIST VISION OF HELL THROUGH THE EYES OF A CHILD"
-Variety