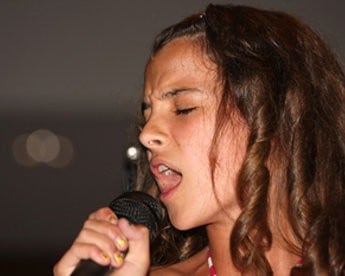 Alyssa Shouse has  the perfect pop voice. I was truly amazed at how well it fits into this style of music. I have listened to her sing various songs and she fits right in with some of the rising stars of pop. In the video, above, she sings  Here We Go Again by Demi Lovato.  She does a remarkable job with it and has the potential to easily follow in Demi's foot steps.
Alyssa  has been singing for quite some time. She says she started when she was two years old, when she would be pushed around in her stroller in stores and start singing  Man I Feel Like a Woman by Shania Twain, "very loudly" she adds. Alyssa did her first talent show at her school when she was eight. She won her first talent contest in 2007  at the local Teen Idol, then went on to win another Teen Idol in 2008. In 2009, she was the winner at the county fair talent show where she lives. In February of 2009, she began playing the guitar, thus adding another dimension to her incredible talent.
I am not the only one who believes in her. For the short time her YouTube channel has been up, she has already racked up over a quarter million views and her fan base is growing rapidly (of which I am now a part). She says her favorite two singers are Michael Jackson and Mariah Carey. She likes their unique voices, saying whenever they sing you know who it is.
Not only is she working to make her dreams come true, but now she is helping others with theirs.  She does a contest called  Winter Contest in which her fans can put together a video, singing songs to see their talent as well. Some want to do one, but are scared she says. But she takes the time to work with them to overcome their fears. This was very impressive to me.  Anyone who helps another person, whatever the reason, has already gained success in my eyes.   I have no doubt that she will achieve everything she dreams of in life.