Set the pace!
When you sing you need to hit notes and keys, but when you drum you need to master beats, intervals and set the pace!
An 11-year-old boy from Hawaii, Michel Drummer, has already proved his skill pounding out rhythms and rolls to classic hard rock and heavy metal tunes by Deep Purple, Led Zeppelin, Metallica, and many others. What's more, at age 11 he has already amassed much live stage experience in places like The House of Blues (Las Vegas), Aloha Stadium (Honolulu), and Whisky a Go-Go in Los Angeles. Michel has also been on TV in Hawaii, California and the Philippines!

Concentration and lots of physical energy
Listening to his YouTube playlist of live performances, you become aware of his natural talent to pick up intricate beats and pound out steady rock music.
Instead of using his vocal cords, this artist uses a repertoire of drums: A snare drum mounted on a stand, played with drumsticks, rutes, or brushes; A bass drum played by pushing a pedal with the right foot; one or more cymbals (there are various types-crash, ride, splash or china) played with sticks. And sometimes he utilizes a woodblock or cowbell for special effect. Michel is skilled in all of these and uses them to enhance and guide heavy rock tunes. It sounds simple, but their use requires concentration and lots of physical energy!
http://youtu.be/Q47sex9gcrw
Michel Drummer was born in January 2004 and has been drumming for a band called Wolfington. By the age of six, he'd already pounded dents in Mom's pots and pans, so family and friends contributed to buy him a real drum kit. Michel (pronounced Michelle, the French version of Michael) has shoulder-length, curly ash-blond hair, and beaming hazel eyes. His bright, positive disposition smiles through his tweets on Twitter, where he has lots of interaction. Aside from drumming, he's into video games, reading, designing, surfing and swimming. Michel and his family will be leaving Hawaii at the end of July (2015) for a new home in California.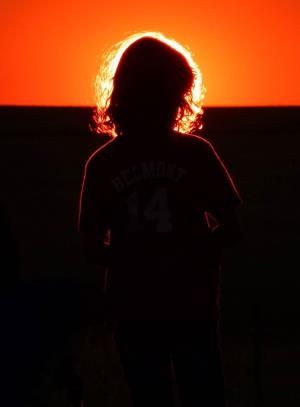 But this youngster has given some thought to his future as well. In addition to drumming, he likes maths and engineering and can picture himself in the field of science, like his role model Tom Scholz, who went to M.I.T. before starting the band Boston.
Michel knows a wide range of music to drum to: heavy and progressive metal; hard and alternative rock; classic and blues! And he has met and played with rock legends such as  Glen Hughes of Deep Purple and Bill Ward of Black Sabbath to name just two. You can check his complete list of rock associates connect on Facebook.com/micheldrummer.
My favorite video, proving his skills, is Everlong (by Foo Fighters) where he sets a fast pace and fills in with some intricate rolls. Check his pace transition in Heaven and Hell (by Black Sabbath) at the 9:20 mark- that's a long tune!! Or check out Led Zeppelin's Rock n Roll at 4:10, where he really gets the whole percussion range snarling! Creeping Death (by Metallica) is another well-covered piece.
An Exclusive Interview
Michel calls all his older musician pals "uncles" or "aunts", which is apparently standard in Hawaii. I asked Michel a few questions for the readers of TheSkyKid.com.
RJ: What will you miss in Hawaii?
Michel: I will miss my friends, musicians, uncles, schools, and beaches. And I'll miss some really nice restaurants!
RJ: Had any unusual on-stage experiences?
Michel: Well, I've played with some legendary musicians.
RJ: Who motivates you?
Michel: Basically my music interests are from my Mom and from Uncle Brett, who is the vocalist in my band.
RJ: Fav films?
Michel: I like James Bond 007 films.
Michel has had the good fortune of landing in this musical milieu with experienced rockers. He is mostly self-taught, it seems. Yes, he wears custom Siemens earplugs! No, he does not practice all day! That's all how it should be.
Continued good luck, many opportunities, and a bright new future in California!
rjm for theskykid.com