"Fifteen men on a dead man's chest–Yo-ho-ho, and a bottle of rum!"
As this is an English language blog,  it shouldn't come as a surprise that most of the artistic performances reviewed by TheSkyKid.com come from countries where English is the primary language. But we must never forget that young talent lives all over the world, so we are thrilled when we can review a quality film, stage show or concert in a language other than English.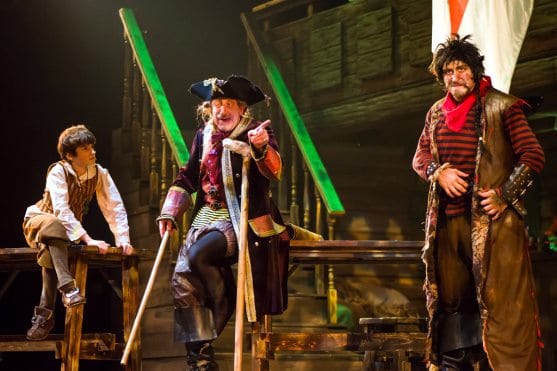 In that vein, we would like to introduce the musical Остров Сокровищ (Treasure Island), based on the bestselling adventure novel by Scottish author Robert Louis Stevenson. The Russian production of the show is by the Circus and Theater Company "Aquamarine" and is wowing audiences in Moscow. Described as  a "musical adventure about friendship and true evil, betrayal, courage and fearlessness, about unruly poems and a beautiful, alluring sense of freedom", the musical premiered in 2012 and has been on stage ever since, receiving rave reviews. Outside of reading such reviews from people who attended the musical, my impressions of it are based on a promotional clip of a song from the show, Песня о свободе (A Song of Freedom).
Песня о свободе (A Song of Freedom)
http://youtu.be/hS5z4OLpu0Q
There are several factors that make a good musical – choreography, vocals and a strong dramatic plot line. The performance of the cast in A Song of Freedom is an attestation that the creative team behind Treasure Island managed to create a magical experience for the audience.
The adventures of the young Jim Hawkins is a wonderful example of a classic Coming-of-Age story.  Young Jim narrates almost the entire story, which is why it comes as no surprise that the attention of the audience is focused on the young actor playing the role of Jim Hawkins.  The website of the musical lists seven young performers  who rotate in the role, unfortunately not giving any specific information about them, but mentioning that, despite their age (12-13 years old), they are all true professionals and winners of Russian and international vocal competitions.
A boyish romance, adventure, passion for freedom, adventurism, honesty, courage and nobility – it's no surprise that Treasure Island  is one of the most frequently dramatized novels.