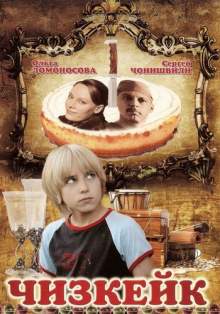 Do you want to see a really good film ? Film that will make you think – what is happening , why is it happening ? Film that will surprise you – an indie film …Yes ? Then you definitely should check out the new Russian film Cheesecake . Reviewing it i not an easy task as I would not want to spoil your experience . The first scenes you will see are related to the story – even trough you will discover this further in the film . What you have to focus your attention on is an add – yes an add – I know that you are used to skip those while they are screening on TV – but this add – this add is special and so are the people who act in it.
Meet Mikhail(Sergey Chonishvili) – he is a doctor .  He works till late , gets tired – his mother is worried about him as he recently split up with the girl he lived with. The film director made sure that the viewer gets to know Michail – and decide for themselves if he is a good or bad man or just a man with many problems. Sergey Chonishvili is a well known actor in Russia and his performance in the film is nothing short of perfect.
Second meet Natasha (Olga Lomonosova) – she is an actress – stars mainly in TV adds , has a boyfriend to whom is rather attached , but this does not stop her to full around with the producer of the commercial. Her character is not as well defined throughout the movie as the one of Mikhail – but the actress Olga Lomonosova makes sure that we remember each scenes in which she appears.
Last – but not least – meet the 13-year old boy Alesha (Pavel Melenchuk). He and Michel are the lead characters in the film. He is a very smart and talented kid – he make his bad , cleans around the house , washes , cooks – studies hard at school and is extremely polite. But he has a problem – no father and  an alcoholic mother who calls him names and is indifferent of his existence  .
One day – a coincidence bring those thee character together  – in a commercial of a Cheesecake. On the advertising shoot, they depict a happy family in Moscow: smile, drink tea.  They don`t even suspect that the fate has prepared for them big surprises and twists…at least not until one night Mikhail discovers Alesha – on the floor Matt in front of his apartment . Alesha asks Michael to allow him spent the night at his house.  Michal thinks about it – he doesn`t like the idea – as he hardly knows the boy –  but after some thoughts  he eventually  agrees .
From that moment on the young movie director Eugene Zvezdakova takes the viewers of her film to a wild roller coaster ride – to a journey with an unknown end. Cheesecake  is a thriller , a psychological drama or a coming of age film – or why not all of those mixed together- the film is not yet listed in IMBD – but if you know Russian you can learn a great deal about it at its page at RussianArt.com