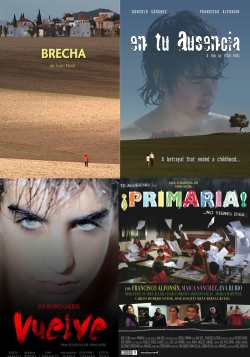 A few months ago, we conducted an interview with the French film director, producer and musician Ivan Noel. His 2008 film, En Tu Ausencia, got a lot of attention and became widely known as an intriguing Coming-of-Age drama. In that interview, Mr. Noel shared with the readers of theSkyKid.com many insights about his films, the state of the cinema industry and the changes in working on youth films – when one wants to share their "real stories, daring, necessary ones".
Another issue that was discussed in the interview was the way movies are pirated and shared on various websites.  At that time he related, "We sold about 15,000 copies (mostly to video rental shops) of In Your Absence, and estimate about 500,000 free illegal downloads."  Indeed, now-a-days with the advance of technology, it seems that downloading a film from the internet has become a norm rather than an exception. Everyone is aware of that fact – from the end users to the film makers and distribution companies. In the interview, Ivan Noel shared with us his plans to establish a website where he will offer free, fully legal, high quality downloads of all his films. He also plans to offer DVD's, videos, photos, anecdotes, film posters and a variety of other media.
We are glad to announce that Ivan's innovative idea has become a reality and Ivan Noel's Official Film Website: Independent Coming of Age Films  site has been launched at can be accessed at:
In the press release announcing the launch of the site, Noel Films writes:
"This is a first in the audiovisual world:  never has a serious film production company taken this step, and much less so with highly acclaimed films.  Ivan Noel's films are noteworthy in that they all deal with childhood or adolescence, ranging from comedyand drama to psychological thriller, often tackling taboo subjects with sensitivity and intelligence, devoid of sentimentality and always searching for the 'real'.  Basically: no 'socially correct' nonsense. "
Personally, I support Ivan Noel and his efforts to make his movies easily accessible and affordable to people from across the globe.  It is a challenge to the Movie Industry – just as the internationally renowned band  Radiohead challenged the music industry when they released a free album back in 2007. There is no denying that the trend towards digital downloads is growing (the Russian filmmaker Dmitry Mayorov also released his short film Have You Forgotten What We Used to Play? for free under the Creative Commons BY-NC-ND license), but it remains to be seen if audiences will appreciate the efforts of the media creators and support their art, thereby making a change in the way we are used to thinking about movies and art.
Trailer of Vuelve. The 4th  feature film of Ivan Noel