[quote_center]I sing, I dance, I play guitar and I love acting.[/quote_center]
S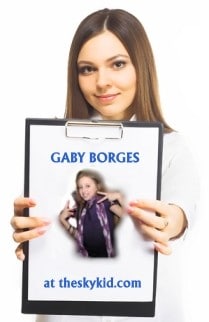 eems like it was just yesterday when I first found out about  Gaby Borges. Her cover of Laura Pausini 's Viveme moved me deeply as she sang that touching song with a voice and soul that somehow made me feel every single word of the lyrics. Not too many singers are capable of doing that – and I really admire her devotion of to attaining her goals and becoming a world renowned singer. Gaby's songs have frequently been played on TheSkyKid.com radio and every time they are the feedback is more than positive.
Gabriela Borges, better known as "Gaby", is 10 years old and is the daughter of Mexican parents. She already has an impressive CV full of international competitions, awards and concerts and is very active in the  artistic community of Miami, Florida. A promising young talent, Gaby Borges in on her way to stardom. She sets an example that one has to believe in one's dreams and reach for the stars – and when it comes to talent, age is irrelevant:
Gaby Borges Viveme
Gaby agreed to give a short interview exclusively for the readers of theskykid.com:
Hello Gaby! Thank you for agreeing to answer some questions for our readers.  I am sure that many of them would like to learn more about you after hearing your songs. Let's start with one trivial question which is typical for interviews with young and promising talents:
theskykid.com: When and how did you first discover you could sing?
Gaby Borges: My mom and me used to sing along with the radio. One day she turned the volume down and heard me sing, so she asked me if I wanted to go to a vocal coach to see if I could sing, and I said "yes". This was about three years ago, when I was seven.
theskykid.com: What does it feel like when you are on stage singing?
Gaby Borges: It feels great, especially when people are clapping and cheering for me!  It's an amazing feeling!!!!
theskykid.com: Who would you say has had the biggest musical influence on you?
Gaby Borges: Well, I love Pink and Laura Pausini.  I know they are completely different stars, but both of them are awesome and I would love to be just like them! They had a lot to do with my singing career.
theskykid.com: Do you sing when you're home alone?
Gaby Borges: Oh yes, all the time :D
theskykid.com: Do you get a lot of support from your family?
Gaby Borges: Yes, they support me a lot, because they already know I want to be a pop-star and they support me 100%
theskykid.com: How you see yourself 10 years from now?
Gaby Borges : Well, I think 10 years from now I will be a pop-star already, my dream will have come true!
We would like to thank Gaby for agreeing to this interview and hope that whoever you are , whatever your goal may be, it can be achieved.