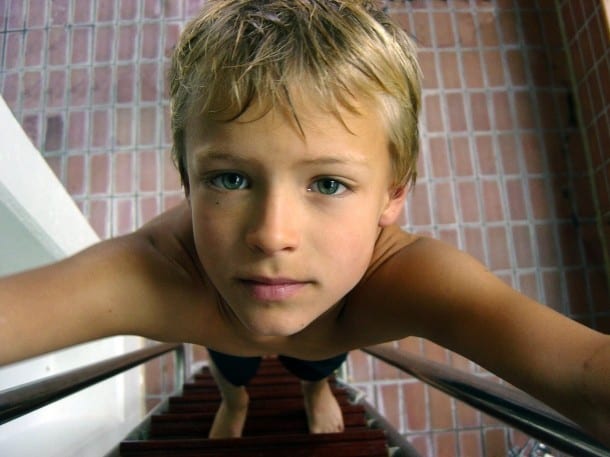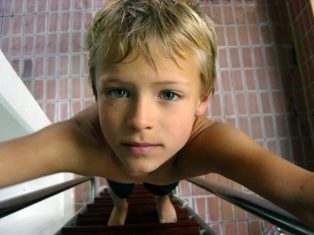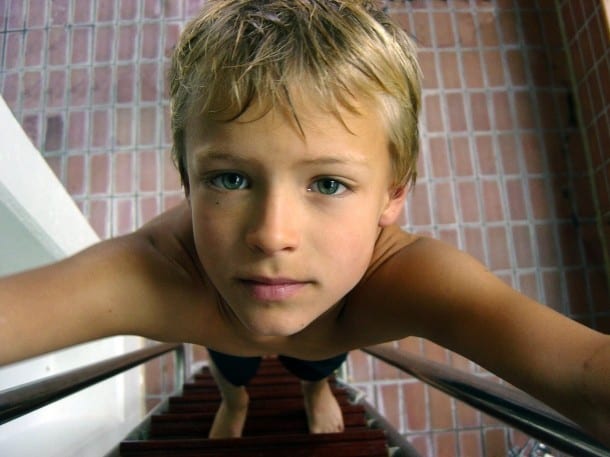 Iver is the first of the short movies I am going to review in this blog. I came to appreciate it as it brought many memories of the many days I spend in around the pool training swimming and triathlon. Let`s start with the basic Iver is a Norwegian movie starring Erik Næsbak Brenden. It was broadcast on the Norwegian TV in 2004. Later on in was shown on many film festivals across the world, amongst them the Chicago International Children's Film Festival, the Wisconsin International Children's Film Festival and more recently the Taiwan Intl. Children's TV & Film Festival 2008. During the Giffoni Film festival in Italy, Iver won the Silver Grypon for Best Short Film. The movie is available in Norwegian only, but I was able to discover English subtitles. However even if you don`t use them you will still be able to understand what`s happening as the dialogues in the movie are rather simple and easy to follow.
The plot follows the adventures of Iver who is taken to the pool by him mother. Unfortunately she is not able to go in with him as she had to attend an important appointment. Once in the pool he wants to have fun, which for him, is high diving and using the swimming mates as a surfboard to skip across the top of the pool. Both of which are forbidden activities in this pool with a very strict rules. And a very strict lifeguard is always after him ruining all the fun. Eventually the boy gets thrown out of the pool for not behaving and failing to follow to the rules.
However Iver is not giving up (yeah) and when the pool closes Iver sneaks back in to do some more swimming. Much to his surprise he sees the lifeguard doing all the things he was not allowed to do, and then the ending is a happy one !
The morals of the movie are clear, too often we have to keep by rules which are broken by the ones who make them. (A double standard.) Which reminds me that few days ago a policeman stopped me and asked me why I was not riding my bike on the red line but on the shore line near the sea .(At the same time he rode his motor scooter there.) A similar situation, but I couldn't just answer, "because I like it more in here." But back to the movie, its running time is only 9 minutes, but its guaranteed that you will be having fun watching every single one of them.