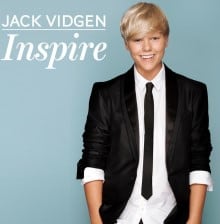 When you listen to Inspire, you enter the realm of spiritual influence. You hear classics from the '70s and '80s that influenced an entire generation-a generation grown older like myself.  These interpretations by Australia's Jack Vidgen, whose prowess and vocal skills were evident in his first album, do indeed carry inspirational memories.
I am, however, somewhat disappointed that Vidgen has chosen to sing eleven retro songs. The exception is Beyonce's already classic I Was Here, which is a fitting piece for Jack's deeper voice — black velvety smooth and mysterious! This song is all about AMBITION with beautifully clear passages by the older teen voice, sounding almost harshly determined in places; traces of sorrow for that which was lost by striving for fame.
Starting with a soulful, confident cover of Michael Jackson's Man in the Mirror (from the album Bad 1987), Jack shows off his somewhat deeper voice. But to turn this soul searching, self scrutinizing song into gospel at the end does not appeal to me.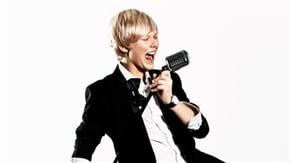 The other Michael Jackson comparison from The Jackson Five (1970) is highly interesting. It supports my theory that Jack is actually capable of singing with three voices, not just one! In the original I'll Be There, Michael's older brother sings the deeper parts and young MJ belts out the high lines.  In this cover, Jack Vidgen handles both tonal levels gracefully. Jack3Voice is more stylized and versatile. One voice is a boyish sweet falsetto. The second is a creative R+B voice, bending notes, turning almost harsh at times. The third is the new deeper teen voice, below tenor. Michael's child voice was a single voice, more rounded, holding notes longer, hardly capable of deep tones.
Jack carries the over sung What a Wonderful World (Louis Armstrong-1970) nicely with some special key jumping patterns, but it's a poor song choice for him as is You're the Inspiration (CHICAGO-1984-written by Peter Cetera+David Foster), which is another tune for a mature male voice.
In Lean on Me (Bill Withers 1972-album Still Bill), Jack again presents his deeper voice, useful here in a hymn to sharing and friendship. But, again, the gospel improv at the end is not convincing.
Jack Vidgen`s new album – Promo
Another song which is brilliantly styled, but not to my taste, is Bridge Over Troubled Water (Simon+Garfunkel-1970). In this Gershwin-like jazzed up version, JV's sweet, tender falsetto toggles with the grainier, wide open, clear voice which reaches its limit here; a touch strained, but wonderfully rounded at the end. It would have been more rewarding to me to hear Jack sing the original melody without the trills.
What the World Needs Now (Dionne Warwick-1967 from the album Here Where There is Love) has Jack soaring spritely above a background ladies chorus, in piano lounge-style–hardly the kind of thriller we have come to expect from him.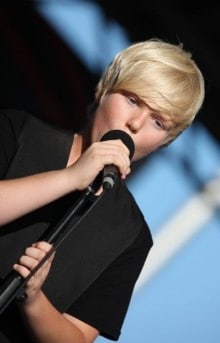 In contrast to this, and suiting Jack well, is the Higher Ground cover (Stevie Wonder-Inner Visions-1978), a funky, difficult to master song, which challenges the inner kangaroo. But JV booms it out with aplomb.
What an interesting comparison to make between True Colors (Cindi Lauper-1986-written by Billy Steinberg+Tom Kelly) by Jack Vidgen and the same by another Aussie singer, Jordan Jansen!. Jack's version is more refined, controlled, but somehow less emotional than Jordan's.  And this song is pure emotion: about seeing someone's true virtues.
If you don't listen carefully to the end of Oh Happy Day (1967 gospel interpretation of an 18th-century hymn), you will miss the highlight of the album: Jack jumping briefly into what I believe is the Whistle Register!! Why the producers have chosen to fade this into oblivion is a mystery to me!! I missed it listening to the first time! Check the 3:24 mark! Turn up your volume! Uncannily, that's Jack sounding like a dog whistle!
Finally, John Lennon's pacifist single and plea for peace Imagine (1971) is wonderfully done with guitar and orchestra tastefully integrated. The tonal quality of Jack's voice is brightly audible and upfront here, clearly amazing to hear.
My final comment about Inspire is double-edged. On the one hand, there are many entrancing vocals on the album that confirm Jack as a brilliant singer. On the other hand, to truly inspire is to risk going forward with original material. That is my hope for Jack Vidgen's next album.