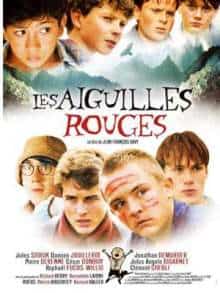 The action in Les Aiguilles Rouges takes place in the mountains of the French Alps where a group of young scouts aged 12-16 years old set out of on a hiking trip. Their patrol leader picks a senior member of their group to lead them, counting on his knowledge and desire to get experience as a team leader.  Once in the mountains, it soon becomes clear that it takes more than a knowledge of nature to become a good leader.  The members of the scouting troop are individuals with their own personalities, shaped by their past trials and tribulations.  The boys are set up for an adventure – but the inexperience of their leader in managing interpersonal relationships soon gets the group into trouble…
Although the plot of Les Aiguilles Rouges does not provide for much originality or surprising twists, the breathtaking scenery of the French Alps and the splendid acting of the young cast make the film worth seeing.  The film is listed as a drama yet, to me, it felt mostly like an adventure with a focus on the interpersonal relationships between the eight young scouts. All the boys in the film are good actors (especially Jules-Angelo Bigarnet) and, thanks to their talent, their characters are filed with life and individuality.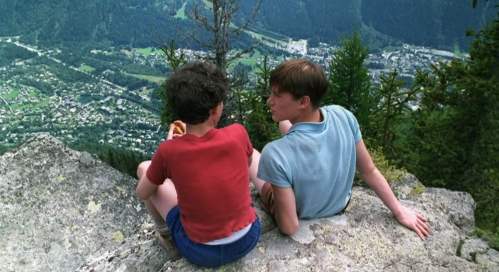 Scene from Les Aiguilles Rouges 
The Algerian War (in which Algeria fought with France for its independence) sets the time frame of the film.  But the relation of the characters to it (one boy has a brother fighting in it, another's family is from Algeria, etc.) hardly contributes to the story  – since it's assumed that the viewers will have some general knowledge of this historical event – which I think is not necessarily the case.  Personally I think that the inclusion of the war theme in an adventure film was not  necessary and represents merely nothing more than a nod to the classic of the French Coming-of-Age cinema, Au Revoir les Enfants.
Though the film did not bore me, it failed to impress me,  as I found the story a bit clichéd. Additionally, even though the story is about scouts, and typical scout values such as courage and friendship are present, I could not really get myself to think of Les Aiguilles Rouges as a typical scout movie that could truly inspire (possibly a result of the fact that when I think of boyscout movies – the American portrayal of scouts is what comes to mind).
 http://www.youtube.com/watch?v=Iy8SvkkGQFc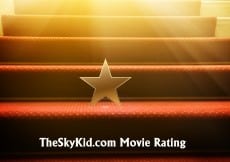 Film title: Les Aiguilles Rouges
Also known as: The Red Needles
Release year: 2006
Director: Jean-Francois Davy
Cast: AJules Sitruk, Damien Jouillerot, Jonathan Demurger,  Jules-Angelo Bigarnet and others