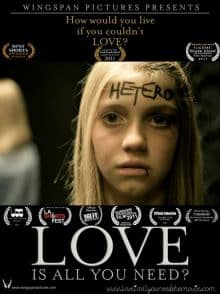 Imagine an alternative universe – a place where things that are socially acceptable now are considered perverse by close minded people and vice versa. Now imagine a young kid growing up in that universe,  looking up to the adults, to his peers – willing to do what he or she needs to do to fit in – until the feelings strike …
Love is all you need?
Directed by Kim Rocco Shields, Love Is All You Need? is a short film featuring a truly unique and innovative approach to storytelling. The main protagonist of the film is Ashley, a young girl who feels different.  She has committed the ultimate sin, she fell in love with a boy.  Sin?!? Yes, because in the alternative reality in which the action is set, same-sex couples are the norm and hetero is considered a deviation.
Although the premise of Love Is All You Need? may seem challenging to grasp (or provocative), when you first read about it or hear it in the movie, when you start watching it – you will undoubtedly be surprised how genuine the story feels.  The cast, and especially the young Lexi DiBenedetto in the role of the young heterosexual, manages to bring the story to life by acting with real conviction.
You get to witness the abuse, the bullying, love, hate and confusion that are commonly addressed in films about youth trying to come out in a society that is not ready to accept their individuality. While there are hardly any surprises in the development of the story, I can guarantee that if you watch the film, by the end you will likely find yourself in tears (I know I was).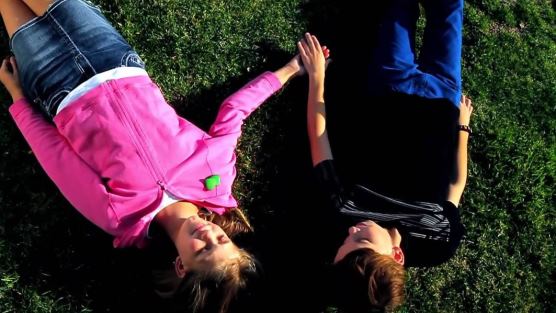 Love Is All You Need? is a movie with a message – an important one — and it's delivered in an astonishingly effective manner. We need to remember that society is constantly evolving – things that are less accepted now were the norm in the past and things that are the present norm may be challenged in the future. Maybe we should ask ourselves if:
Love is all you need?
I am happy to be able to share the full length movie here at TheSkyKid.com, as I believe it is one that our readers will benefit from watching.
I couldn't resist sharing the final quote that appears at the end of the film – a dedication and a truly important message:
"The film is dedicated to any child who has ever felt darkness due to the hatred or misunderstanding of others. Always know that love is meant to be within and you should never feel wrong or alone by being who you are …Unique."   
Watch the short film Love Is All You Need?:
http://youtu.be/3ROXTFfkcfo