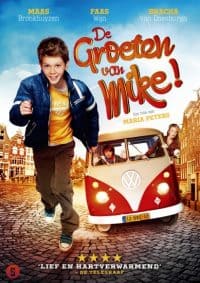 Too bad all films set in a hospital aren't as entertaining and good-natured as Maria Peters's Mike Says Goodbye!. The Netherlands has proven to be one of the countries that fund and release amazing family themed films that can be enjoyed by audiences of all ages.
Mike (Maas Bronkhuyzen) is a 10-year old boy who is recovering from leukemia. Thanks to a bone transplant from his mother, he feels better and is ready to be released from the hospital, but his mother doesn't come to pick him up. The Child Welfare agency takes an interest in Mike's situation.
Even when the mother does show up a few days later, Mike is not to be released in her care and is likely to be placed in a foster home. The young boy does not want to be separated from his mother. Yes, she might have been careless and she might of have been drunk too often, but she IS his mom! Together with his roommate Vincent (Faas Wijn), Mike forms a plan to foil the child court and remain in the hospital until his mother is able to get him.
Yet…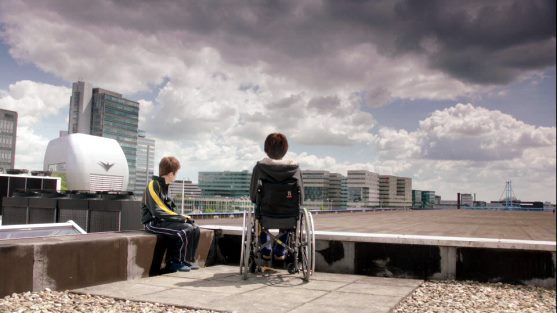 "A hospital is not a place to live, a hospital is a place to get better"
The action in Mike Says Goodbye! takes place during the holiday season and the Christmas cheer is an essential element of the film's atmosphere, either as a boost to the adventurous vibrant feel or, at times, by contrasting a dramatic turn of events in some scenes. Indeed, while Mike's adventures are charming and wild, the film doesn't overdo the dramatics. There's  just the right amount so that the film gets a sense of seriousness without becoming too sentimental.
If there is one thing I have learned about films set in children's wards in hospitals, it's that great friendships are forged there. From the Spanish film Planta 4a, the British Ways to Live Forever  or the French-Canadian co-production of Oscar et La Dame Rose, the phrase "a friend in need is a friend indeed" gets its best verification.  Mike's roommate Vincent is severely injured in a bike accident and will likely not be able to walk again. Mike has his fair share of problems, but tries to help Vincent regain the will to live.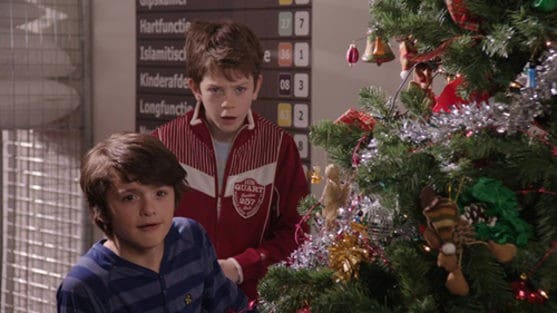 The film is filled with likable (and some not so likable) characters: a determined mother, a strict social worker, a good-hearted administration guy and a caring nurse – to mention but a few. The entire cast delivers great performances. Maas Bronkhuyzen, in the role of a mischievous young boy with an attitude and an adventurous spirit, is bound to win you over. His facial expressions bring a sense of realism to the narrative and make one feel for his misfortunes, laugh at his silly pranks or enjoy his afflicting enthusiasm.
I enjoyed every minute of the film's 95 minute length and, when the final credits rolled, I was in for yet another pleasant surprise — a surprise that made me enjoy the credits too and left me singing throughout my day.  But I'll leave that surprise to be discovered by you when you watch the film.
Mike Says Goodbye! Trailer
Film title: De Groeten van Mike!
Also known as: Mike Says Goodbye!
Release year: 2012 – Shooting Star Filmcompany BV, Launch Works
Director: Maria Peters
Cast: Maas Bronkhuyzen, Faas Wijn, Bracha van Doesburgh, Carine Crutzen, Leona Philippo, Dave Mantel and others