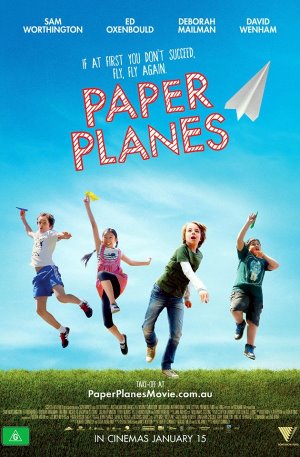 You`d better have some paper ready to fold as you start watching Robert Connolly`s 2014 movie Paper Planes. It stars Ed Oxenbould (apparently one of the most prominent young Australian actors these days including the title role in Disney`s Alexander and the Terrible, Horrible, No Good, Very Bad Day), and tells the story of Dylan, a young boy who discovers a new passion in flying paper planes. Encouraged by his teacher, Dylan decides to try his luck competing: at the state, national and then world paper plane flying championship (to be held in Tokyo, Japan).
Dylan lives in a small rural village in Western Australia with his grieving father, who has lost the will to work or do just about anything after the untimely demise of Dylan`s mother five months before.
While only 12, Dylan realizes that, despite the pain, life must go on and wishes to help his father get a grip on his life. The relationship between father and son, and the overcoming of grief, become the main themes of the movie.
Although Paper Planes is an uplifting and entertaining film, it doesn't shine with originality. Its simple plot essentially rehashes the narratives of a great many similarity themed Coming-of-Age flicks.  Some examples that we've previously reviewed at theskykid.com are: The Rocket, Saint Ralph and Allez, Eddy!, Life According to Nino  and The Stone Boy.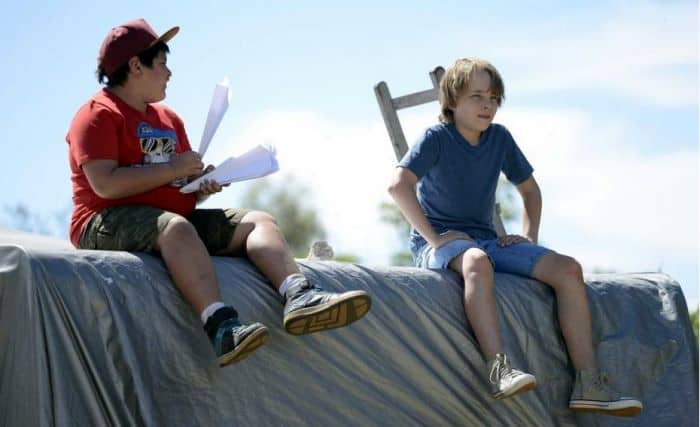 If not for the modern day references (kids buried in cell phones and electronic games), the story could have been set in the 80s, as the film does possess the aura of Coming-of-Age films set in those years (from bike riding, to props to the musical score).
With the significant predictability factor in place, it's the actors who help give the familiar story a twist that doesn't bore the film`s audience, with Ed Oxenbould especially succeeding at that. The functional speech disorder (lisping) of the young actor (which I wrongly labeled as an accent in my review of Alexander and the Terrible, Horrible, No Good, Very Bad Day) somehow adds another layer of appeal to his character, who otherwise appeared almost too good to be true – even if a great role model for a kid that age.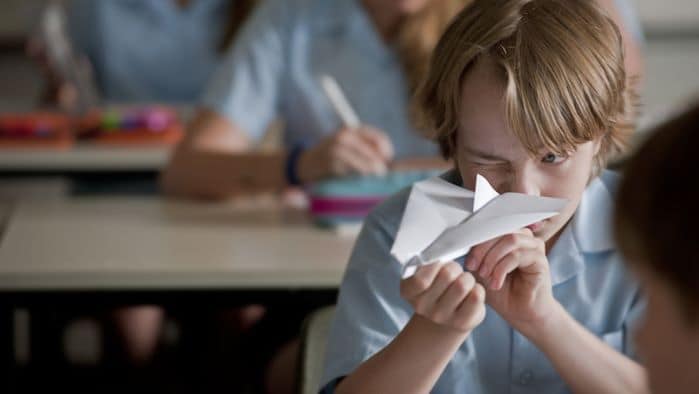 Some may look at it as a cheesy, forced attempt to inspire young audiences but, hey, it might work for some. Aside from Dylan, all the other characters are quite stereotypically portrayed:  from the crazy old grandfather, to the cute Japanese girl (who becomes Dylan`s heartthrob), to the bully and finally to the over ambitious competitor.
The ending is in line with the rest of the narrative and comes across as a bit forced, yet not unexpected. Despite the film`s shortcomings, it doesn't bore and I let myself be manipulated at least once responding to a touching scene between Dylan and his father. And I did fold my own paper planes, the quality of which doesn't come even close to those in the film.
Therefore, I will say that Paper Planes is quite inspiring for predictable family friendly fare and deserves a chance to be seen.
Paper Planes Official Trailer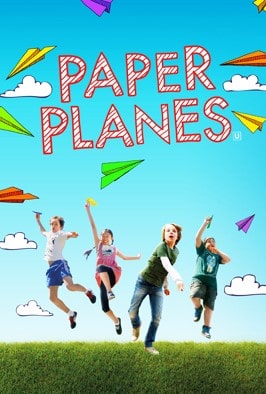 In short
A 12-year-old boy finds a new passion in flying paper planes and tries to help his father deal with grief.