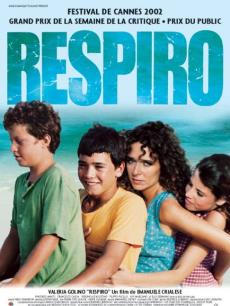 Respiro is an Italian drama set on the island of Lampedusa (near Sicily).  Its director, Emanuele Crialese, tried to allow us a sneak peek into the life of a fisherman's community on the island and its members. At first, everything looks quite mundane – the men go out to sea and catch fish, the women clean them and the kids – well they do what kids do best: play, fight and hang out, at least when they're not in demand to help their parents at the seaport or the fish factory. Yet, in this idealistic setting, there is someone who is different and free-spirited – or may be mentally ill as most of the villagers seem to think: Grazia (Valeria Golino), a beautiful young woman who is married to a hard-working fisherman and is the mother of three – two young boys and a girl.
The Coming of Age elements of the film are to be found in the role of Pasquale (Francesco Casisa) who, although still a kid himself at 13-years-old, has to accept adult responsibilities – such as being a guardian of his mother – a task in which he is helped by the younger Filippo (Filippo Pucillo), his brother. Even with that, Pasquale still finds time to participate in fights with rival gangs of youngsters, work at the fish factory and even tries to get a kiss from a beautiful girl he meets one evening.
While the cinematography of the film features stunning nature scenes, impressive underwater shots and abstract images, greatly contributing to the enjoyment of the film, the film's plot won't be of real interest to the casual movie watcher – but will appeal to people with a taste in art-house cinema. With its emphasis on the real lives of the people in a fisherman's community,  Respiro is a classical example of the Italian neo-realism movement in cinema. Its plot and story come from the daily lives and experiences of people. While the film's viewers play the unfortunate role of passive observers (I, for one, did not feel an association nor any compassion for the characters on screen), Respiro has its own charm, which will keep you interested in the story of Grazia and her family.
Film title: Respiro
Also known as: Lampedusa
Release year: 2002, Fandango, Medusa Produzione, Telepiu
Director: Emanuele Crialese
Cast: Francesco Casisa, Valeria Golino, Filippo Pucillo, Vincenzo Amato, Muzzi Loffredo, Elio Germano and others