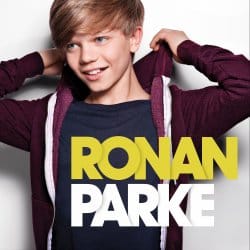 Ronan Parke, from Poringland in Norfolk, England, was born on August 8, 1998. He appeared in the television show, Britain's Got Talent, and was selected as the runner-up.  Those born under the sign of Leo, like Ronan, are natural performers and he exemplifies this perfectly. He has a powerful voice and a great range.  His impish charm, poise beyond his years and cheeky delivery are thoroughly captivating.  Britain's Got Talent is a British television show on which acts of all types (singers, dancers, variety acts) compete against each other for the largest share of the audience vote to earn the ultimate title, 'Winner of Britain's Got Talent'.  The show started in June 2007 and rapidly captured the hearts of legions of television viewers.
The show has won numerous awards including the National Television Awards, Nickelodeon UK Kids Choice Awards, Digital Spy Reality TV Awards and TV Choice Awards. It was nominated for two BAFTA Awards (British Academy Of Film And Television Arts) in 2008. Each year, the finalists, semi-finalists, the previous year's winner and a few 'surprise' acts visit major UK cities on a live tour.
Ronan's first album was released on 24 October 2011, when the singer was only thirteen years of age.  His versatility is evidenced by the range of artists whose works are covered on the album,  tunes clearly selected to demonstrate this.  He is equally at home performing Nina Simone's hit, Feeling Good, as he is covering Katy Perry's, Firework.  His rendition of Bob Dylan's, Make You Feel My Love, is heart-melting.
The youthful singer's clarity and confidence belie his young age in his rendition of Songbird. The song appeared in 1977 on Fleetwood Mac's 'Rumours' album. It has since been covered by Willie Nelson, John Frusciante (Red Hot Chilli Peppers) and the late Eve Cassidy, for whom the album of the same name reached #1 on the UK charts in the year 2001.  Forget You, originally performed by Cee Lo Green, and Fix You, by Coldplay, also appear on the album.
Ronan's voice has been likened to that of Billy Gilman, who, at the age of 12, became the youngest singer ever to have a hit in the Top 40 country music charts. A big fan of Lady Gaga (Ronan went to see her at O2 Arena), he covered her tune, Edge of Glory, on his recently released album.  Gary Barlow penned the song, Stronger Than I Am, especially for this collection of twelve of the singer's best tunes.
Did you get Ronan`s album?  What`s you take on it?