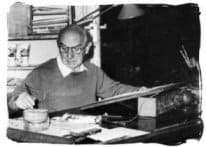 Not long ago, I introduced you to the art of Norman Rockwell. Today, I would like to introduce another famous illustrator – Pierre Joubert.  He was born in Paris on 27 June 1910 and achieved a worldwide fame thanks to his drawings, published in  hundreds of magazines and adventure novels across the globe. When young he was a Boy Scout himself,  and his drawings focus exclusively on the Scout movement in which he achieved the rank of Patrol Leader.  His talent was first recognized by the National Scout Movement of France who who invited him to draw for its magazine . It was Joubert who, in 1940, redesigned the current badge, Scouts de France.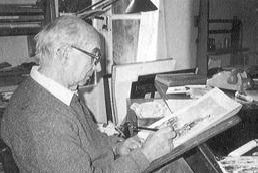 When I was about 10 – my teacher's son gave me an amazing gift. In fact,  it was really two gifts – the very first skateboard of my life and his entire collection of illustrated magazines he had collected over the years.  It was a big and very valuable collection of magazines, the first issue of which had been published back in 1979. Nowadays, copies of this  magazine are extremely hard to find even on the market for collector's items.
I still remember the countless hours I spent over them, imagining all sorts of adventures. The heroes from the pages came to life in my dreams. Thanks to the art of  Pierre Joubert I remembered those wonderful times. Joubert has been recognized in the arts as "the illustrator of adolescence of the 20th century". He was 91 when he died on 14 January 2002.  His art, however, will live forever!