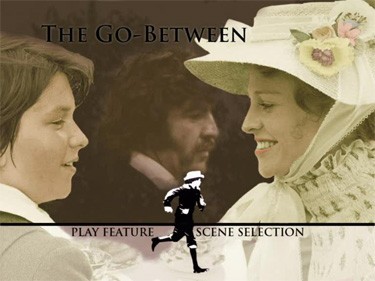 For its American fans (and fans-to-be), the good news is: one of the best – and, until now, more inaccessible – coming-of-age films is now readily available as a streaming-only selection at Netflix.  (In fact, it's only been available as a Region 2 DVD since 2007.)  Thus, we have reason enough to both review and celebrate that long-neglected jewel of 1970, The Go-Between.
Joseph Losey's film of L.P. Hartley's 1953 novel (perhaps most enduring for its opening line: "The past is a foreign country; they do things differently there") certainly stands the test of time, though it's slightly encumbered by a Sixties-style editing technique – namely, sometimes jarring (though thankfully infrequent) cuts between past and present.  Winner of the Palme D'Or at the 1971 Cannes Film Festival, The Go-Between is in no way deserving of the obscurity that's befallen it over these past 40 years.
Set during the particularly hot summer of 1900, in a resplendently lush English countryside, the story follows young Leo's at-first idyllic stay at a modest Norfolk estate.  Leo is the guest of his school chum; but the friend almost immediately is confined to bed, because of illness, leaving Leo alone with the adults – and with one adult in particular.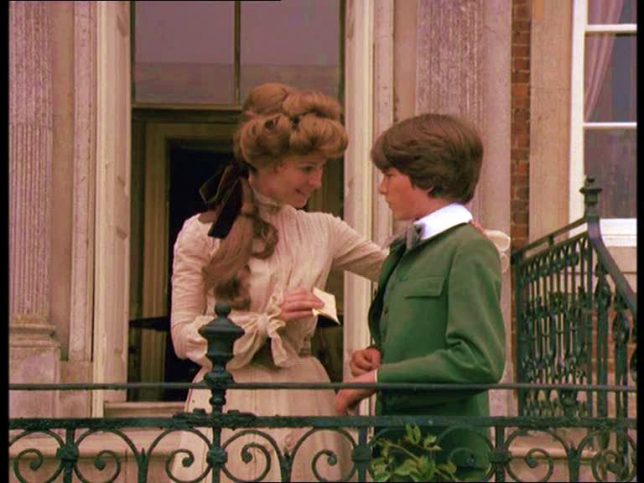 On the verge of his thirteenth birthday, Leo is defenseless against the charms of his friend's older sister, the beautiful Marian (Julie Christie).  The emotional tangle that begins to ensue, as Leo becomes the unwitting conduit between his crush Marian and her lover Ted (Alan Bates), starts to take its toll on the boy, as the ways of the world begin to open wide his innocent eyes; and the bright shining light of his childhood starts to give way, almost inevitably, to the darker landscape of adulthood.
As is often the case with disturbing events of adolescence, Leo's exposure to such affairs of the heart, and his own pivotal role in the tragic outcome of the matter, forever alters the essence of who he is and, more importantly, negatively shapes the man he will become.  The repercussions of that fateful summer will echo down through his lonely, isolated years, until the present time of his narration of the story, when he's an old man looking back at it all, on the occasion of a return to Norfolk.
Leo is perfectly rendered by Dominic Guard, who is probably most widely known for his later role in the equally exquisite Picnic at Hanging Rock (1975), in which he also played a smitten young man caught up in tides of lust.  Toward the latter part of The Go-Between, there's a terrific exchange between Leo and Ted in which the young actor more than holds his own with his adult counterpart.  I've seldom seen a young actor better control both his words and his body, in the verbal give-and-take of that confrontation.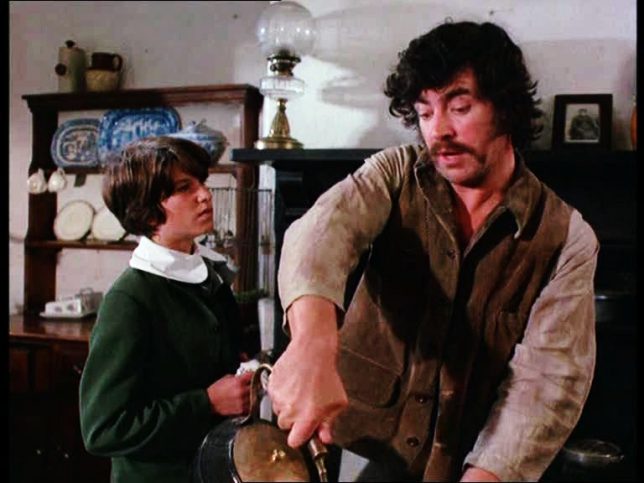 Harold Pinter's adaptation of the novel is overall excellent.  For brevity's sake, there are a couple of understandable omissions, such as the importance of Leo's feelings of guilt from an earlier incident at school, where he felt responsible for another tragedy.
Moreover, for the treble fans of this site, there's a moving scene, after a big cricket match, in which Leo is called upon to sing.  He chooses "Angels Ever Bright and Fair" as his selection, and his voice briefly floats across the dinner hall, sounding "like a lark" – or, at least, so Ted later tells him.  (The book has also recently been adapted as a musical.)
The Go-Between, long hard-to-find, is now much easier to access.  As coming-of-age films go, it's surely one of the finest.