His name is Vincent Lintermans.
But everyone calls him Vince! That's just to make it a bit easier to remember. He was born on March 10th, 1997 and lives in Landen, Belgium. Vince participated in the Junior Euro Song Contest with the song 'Al Fluitend Door Het Leven' in the year 2008. In school, he is now attending the 6th year, before heading to college. Vince doesn't have any brothers or sisters, but he really likes dogs, fish, birds and goats. Now that isn't heard often. He is a jolly boy.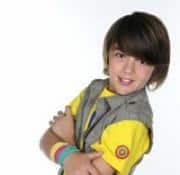 His nicest memory of the JESC is Disneyland Resort Paris, with MC Louis in the Space Mountain.Vince has a love for animals and old(er) people and hates people who pick their noses or display jealousy. He also gets nervous if he has to wait for something. But his heart begins beating faster when he sees a beautiful girl.
Together with his mum, Vince goes jogging six kilometers every week. Such a good work out comes in handy because he sometimes blows his entire lung capacity on the trumpet – which is great to hear. For the past two years, Vince has been part of a youth choir and does some solo's as well. Vince wants to become a singer, actor or musician. And so his dream is to go far in the entertainment business.
Song: 'Hoe Mooi De Wereld Is'
If you ask Vince who his best friend is, he doesn't have to think long – Fhara, his dog. She knows all of his secrets and is always with him when he's driving his quad at grandpa's pear plantation. And yes, from time to time, he will pick a pear from the trees.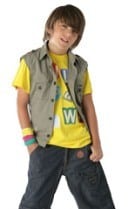 To finish this little bio, some favourites of Vince: Book: De Spoken van McHaggis (The Ghosts of McHaggis) Song:Lollipop, by Mika Artists:Mika (obviously), Dean and Natalia (2 Belgian singers) Movie: 10 000 BC Colour: Purple Food: Chinese (chicken curry with rice)
I want to add a big thank you to Vince and his parents for allowing me to send in his music and this article for theskykid.com. We all appreciate it and, of course,will play his music on theskykid.com radio. Thanks!
___________________________________________________
Vincent Lintermans Audio Presentation