R&B / Boy soprano Jack Vidgen : Yes I am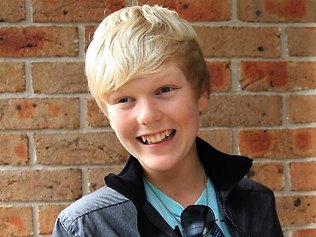 When you hear the vocals on this album, you will realize what a phenomenon a boy soprano like Jack Vidgen is.  This short-lived stage before and during puberty, when a boy's voice has the capability to soar as high as a woman's, was used in past days by clergy and musical theatre to replace women at a time when it was unheard of that they should sing in front of an audience.  For example, J.S. Bach was a boy soprano until the ripe old age of 16. In musical terms, the actual difference between a TREBLE singer (many of whom sing with choirs) and a BOY-SOPRANO is that, on a musical scale, trebles range from "A" below middle "C" to "F" above middle "C".  On the other hand, sopranos can extend to a high "C" in the modal register.
But Jack Vidgen is no choirboy. One shouldn't be deceived by his bright blond, peach fuzz cheeked appearance.  Jack is a full-blooded R+B artist who's talent is no coincidence, but rather the result of his vocal training, mostly gained at the Sydney (Australia) Vocal Arts Centre. Even before his recent spectacular win at the Australia's Got Talent contest, Sony Music had signed him. What we hear from Jack  is a rare, unique, rich tone which develops for a few short years before the larynx lowers (voice break) and other vocal ranges develop.
Track List & Review
In the title song, Yes I Am, with which Jack won the Australia's Got Talent contest, he powerfully asserts: "I'm gonna make it alright. Yes I am!" His voice soars like an aerial acrobat doing stunts. The music builds up into new dimensions with a background chorus that pushes the singer ever higher into a gospel type peak. Whether or not Jack wrote all the lyrics becomes unimportant, because it's a brilliant  piece worthy of the AGT first place prize!!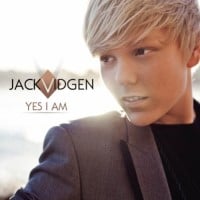 And I Am Telling You, I'm Not Going is a song from the Broadway musical Dreamgirls, about a singer in a girl group who refuses to leave her manager/ex-lover behind. Jennifer Hudson won an Oscar for her film role in 2006, when this song became a Top 20 R+B single and a #1 dance hit.  Jack's version of the song is vocal dynamite!  It's uncanny to hear a boy sing with this range and power, with both a male energy and  a feminine precision.  Some complex passages at full capacity are astounding.
Adele's Set Fire to the Rain is a recent chart hit, which many singers have covered. What I found notable here was the vocal exactness, the careful styling.  Jack's voice has a surprising masculine quality here. We hear a kind of rough pavement on the vowels, which gives this cover his personal touch.
The 1960 Motown song by Smoky Robinson Who's Loving You? is next. Possibly the most famous version of this tune was by The Jackson 5, but it's been sung by many well-known artists like The Miracles, The Supremes and The Temptations. This ex-lover's lament challenges Jack with some very high notes and complex vocal flurries. There are bang-on soulful passages.
Because You Loved Me is a Celine Dione cover in which Jack demonstrates his ability to hold high tones at near perfection.  In fact, it seems like a few notes are up in the "whistle register" here, but I'm not an expert on that.  I do have a tiny problem with the mixing balance near the end, where the background instrumentals are a touch too strong.  Regardless, this is a fine, sensitive cover.
In 1966 Ike and Tina Turner had a hit single called River Deep, Mountain High — a song with a big swinging beat.  Jack throttles this out like a seasoned artist, confident of his abilities. The lyrics have been amended slightly, of course, to suit a male singer. There's a big crescendo at the end and, again, I find Jack gets muffled a tad by the instrumentals.
Still another famous R+B hit follows with Aretha Franklin's 1968 hit Think.  This song is a kind of feminist anthem and Aretha lip-synced it in the 1980 film Blues Brothers. Again,  the lyrics have been changed in places to fit Jack.  He simply brilliantly roars through this song, making it sound like an uncanny anthem of boyish freedom.
Mariah Carey's Hero is maybe her best known hit, re-recorded after the 9/11 attack.  Jack does it extremely well, even though in my opinion it's impossible to match the Mariah version.  Fine lilting vibrato facets are impressive here in the crystal clear lyrics!
Glitter in the Air is a more contemporary piece by Pink, which presents Jack with a less strenuous assignment. This song is in a more Pop-Rock style, but I would rather hear Jack's voice dominate than the piano.
Whitney Houston's 1993 powerful ballad about commitment to one's lover, entitled I Have Nothing,  is another excellent R+B cover. In this song, we hear the fullness of Jack's voice.  There is a richness, a sweetness, but also a gutsy masculine boy sound.
A mixture of R+B, Hip Hop and Pop — that's Jack Vidgen's original song  Fly.  With an almost effortless, clear  and powerful voice,  Jack shows us why he's chosen to be a stylish young R+B artist.  With his special voice, its a smashing original-my five star song on the album
In 1975, Minnie Riperton did a song called Loving You, in which she hit the "whistle register" at the end.  In his version, Jack does not duplicate that, but sings it with a charming clarity. It's a fitting song to end the album.
Yes I Am is an impressive album which showcases Jack Vidgen's extraordinary singing talent. It's no wonder his rapid rise to popularity has followed.  I highly recommend the album.  My personal wish is for some softer ballads from Jack in the future.
We are proud to have been amongst the first media to play Jack Vidgens`s music at TheSkyKid.com Radio