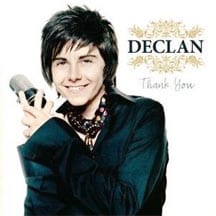 I just got the new album of Declan " Thank you " and decided to write a short review of my first impressions of it. Starting from the covers – the artwork looks quite cool, and the pictures are chosen very carefully. But then again, the music is far more important than them. Let me say a few words about each song from the album :
"An angel" – video clip-originally performed by Kelly Family. Excellent performance of Declan – while listening to his angelic voice, you most likely will feel the song, especially if there is a person in your life who is like an angel to you. I enjoy singing along while listening to that song and am hoping to see a Karaoke version of it shortly. An Angel – lyrics
Love of my life " – originally performed by Freddie Mercury. Very calm and romantic song. Since Queen is one of my favourite bands and Freddie Mercury is someone I admire with all my heart – I was wondering if Declan will be able to sing that song good enough as not to make me angry with someone attempting to sing Freddie`s songs like on these stupid remixes so popular these days. Declan did good! Love of life – Lyrics Video clip
Nights in White Satin– video clip- originally performed by The Moody Blues. In my favourite song of " Thank you, " Declan clearly demonstrated his voice's capability to perform this song. I agree with an opinion I saw at SongFacts that the song's ending is the coolest part of it. Nights in White Satin Lyrics
Tears in Heaven originally performed by Eric Clapton. The track is a very touching new arrangement of this wonderful song. The guitars and especially the back vocals sound amazing. Tears in Heaven Lyrics
BrightEyes composed by Mike Batt. Personally, I wouldn't say I liked this song much – but you may think otherwise. In any case: Bright eyes – Lyrics
House Of The Rising Sun – originally performed by Bob Dylan – I can write just one word for this song: classy! The lyrics are outstanding too. House Of The Rising Sun – Lyrics
Saved By The Bell
A nice ballad – originally performed by Bee Gees. Thanks to Blue, you can now find its lyrics in the comments below this post.
David's Song (Who'll Come With Me) – video clip

Yet another song originally performed by the Kelly Family. I am glad that Declan brings back such wonderful vibes -the spoken words in this song sound very nice, and overall this song is one of my favourite ones from the new album of Declan. The lyrics can be seen here.
All Out Of Love
Originally performed by Air Supply – lyrics – very calm song, I did not know about Air Supply before hearing this song but now will find some more song of this group. Declan performs the song quite well as well.
How Could An Angel Break My Heart
Originally performed by Toni Braxton. Trough I like the music of Toni Braxton, I feel that song much more personal once I heard it performed by Declan. It may just be because of my taste for treble music ( and yes, I think that the Declan`s voice is still treble ). This song is just perfect for dancing with the girl you love. And the lyrics – see them here.
Related posts: Declan Galbraith is back Declan Galbraith

I am curious to know what do you think about the new album of Declan – if you happen to write your own review – send me the link, and I will put it here.
An update: I found one new blog post about Declan – read what Daniel from China has to say – here
I just noticed that as of today ( 20.12.2006), this post had been seen by more than 700 people – and that may mean only one thing -Declan really has many fans.
Declan has some really great fans in China – see this page.
A German review with video clips ( link)
Lyrics of Declan Galbraith`s songs