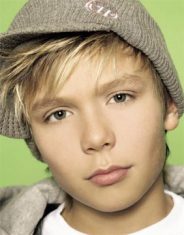 Since he won the MGP 2005 for Denmark, 18 year old Nicolai Kielstrup's success has grown enormously. He really is an extremely talented singer/dancer and has already released three albums, one single and performed lots of concerts.
His career in music and dance began when he won MGP 2005. But dance training began much earlier. From the age of 4 he was very much interested in dancing hip hop, street, breakdance and funk. When he became 10, he started at Legoland Show Academy, where he was skilled in dance and drama for two years. It was also here that the young boy, for the first time, began to show his interest for the songs and to develop his voice.
Educated from Legoland Show Academy, Nicolai had the courage to seize the chance and make a song for MGP. Soon the young boy got selected and became included into the program. He and his three dancing girls won the show with 'Shake – Shake – Shake' and so his career started to become what it is nowadays.
At that time, nobody could foresee that the talented performer would have his third album on the streets by 2009. But when Nicolai sets himself a goal, he goes right after it and it is clear that he is very ambitious about his music and dance.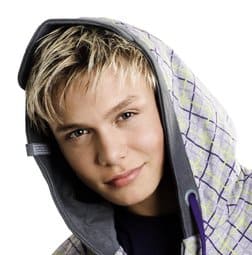 "I am probably the person who has the greatest expectations for myself. I am very much a perfectionist about my music and my performances and I am always working to make them as good as possible. If I am not completely satisfied, then I will discard everything and start all over until I am completely satisfied", says  the purposeful singing and dancing talent.
Music and dance are a big part of Nicolai's life. And because he was so young when he started to sing and dance, he develops himself with music like the music evolves with him.
"I can clearly feel that I have developed myself from album to album. For example, I discovered that my messages have become more serious on my latest CD. One of the tracks is death – the losing of one you love- and I was certainly too young to sing about that three years ago. But it is obviously not serious messages all the time", says the young Jutlander with a twinkle in his eye and continues…
"I also find that music is a good tool to find myself and get really mature. The music evolves with me and I develop myself with music – it is mutual."
With his weekly dance hours in Copenhagen, regular singing hours, work in the studio and appearances on weekends, the 18-year-old heart throb also finds the time to attend Business College in Vejle.
Nicolai now has his own dog. It is a golden retriever who has been named Bonzo. The singer has always enjoyed the company of these kinds of dogs. Already since he was a child. There were two families who both had golden retrievers and Nicolai spent lots of hours playing with the dogs. One of them was also called Bonzo. When the family visited the kennel Nicolai had two favourite puppies and one of them was the 10 weeks old Bonzo. It is a very independent, clever, curious, forward-rushing and loving dog. But most important is that when Nicolai comes home he gets a super-welcome.
Albums
Nicolai, 2006 – sold 30.000 copies and resulted in platinum
Stage 2, 2007 – sold 25.000 copies and resulted in gold
Dejavu – Tilbage til mig, 2009 (+ Diva Baby in English)
Single
Det for sent nu, November 2008
New demo songs in English
Still care, December 2009
Figure it out, December 2009
Websites
http://www.myspace.com/nicolaikielstrup
http://www.youtube.com/user/NicolaiKielstrup
http://www.arto.com/section/user/profile/?id=4911774
http://www.facebook.com/pages/Nicolai-Kielstrup/20740836784?ref=ts
————————————————
The article above is guest contribution of :
Jonas – http://twitter.com/electrrricity